MEET THE COAT THAT DOES IT ALL
🏠 WARM FROM HOUSE TO CAR
🎁 SAFELY BUCKLED IN THE CAR SEAT IN ONE EASY STEP
🚨 WARM IN THE CAR IF YOU ARE STRANDED AWAITING RESCUE
❄️ PERFECT FOR SNOW PLAY
Ponchos aren't warm in a crash, blankets fall on the ground out of reach when you need them (not to mention the constant washing), and light fleece jackets are only good for quick dashes to the car - plus you STILL need to buy your little one a coat for the snow…
 Juggling several outerwear solutions is a hassle and adds up fast!
Worry less, buy less, and keep it simple, safer, and EASY with the coat that does it all in one fast step.
It doesn't need to be overwhelming..
As a one mama run small (potato) business, I take safety very seriously. I've crash tested so many coats and car seats to create the safest coat for your little one so you don't even have to worry about car seat safety or freezing weather. You can enjoy your trips - without any struggles!
Coolest green interior with marigold yellow flannel inside - this car seat coat keeps little ones warm all winter long. Fall in love with kangaroo pockets - perfect for hiding tiny treasures or giving cold hands a cozy place to snuggle.
Perfect for safer rides in the car and outdoor days in the snow with durable wind and water resistant exteriors. Coats run large for longer wear! No "sizing up" and adding bulk to the back.
📦 30 Day Worry Free Return/Exchange Policy
Harness safely snug on chest & shoulders
Crash Tested
CPST (Child Passenger Safety Technician) Approved
CPSC (Consumer Product Safety Commission) Approved
Wind + Water Resistant
Machine Washable
100% Polyester - Imported
Customer Reviews
Write a Review
Ask a Question
10/14/2021
Kathy F.

United States
Love this coat!
This is our third Buckle Me Baby coat, and they are great! We got 2+ seasons from the first one, which was a size 12 months. Jumped to a 4T for her second coat (she's almost 3yrs). It's a little big, but we just roll the sleeves. We usually leave the flap open in the car so she doesn't get too hot. It's great to have a safe coat for in and out of car seats! Older sister has one, too. She's had it for a couple years and can still fit, however, she doesn't wear it as often anymore due to age and car seat type (booster with belt). I actually prefer the basic style without hood, because I wanted a minimalistic safe car seat coat. I can easily add scarf or hat if needed, but don't have the bulk of such pieces in the car seat. Now we just need some snow!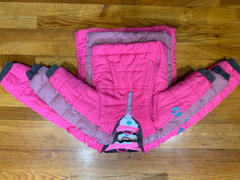 10/11/2021
Lori B.

United States
Buckle Baby Coat 3T
Bought this coat last year for my grandson. The parents really appreciated the easy to use with car seat. Excellent Quality.
10/03/2021
Tasha S.

United States
Love these coats
This cost is such a beautiful color for my girls. I love that I can stop making them either wear super thin coats to the car or have to take coats on and off! They will need thick coats for outside time at daycare/Kindergarten, so this makes it easier all around!
09/11/2021
Cherrymae W.

United States
Well designed!
At first I was thinking, oh no, theres no hood, but for a coat for in and out of the car, this is amazing and a hood would get in the way.
08/26/2021
KAILE B.

United States
Love!
This is the second Buckle Me coat I have bought my son. I will continue to buy these coats until he is out of a car seat. Warm, comfortable, and easy to use.
08/20/2021
Susan M.

United States
Excellent coat
Loved the color and I feel good knowing my son will be warm and safe.
07/24/2021
Takisha I.

United States
Exactly as expected
They mention that the jackets are purposely big so I ordered an 18 month size for my small 16 almost 17 month old to use this winter. She is swimming in it right now, but hopefully it will fit a bit better when she actually needs it. Besides the fit, they give pretty clear instructions on how to buckle up the kids with it on.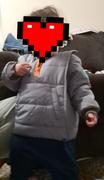 03/14/2021
Rochelle K.

United States
My daughter loves it
My daughter runs really cold in our car and we have tried all sorts of combinations to keep her warm but at the same time safe in her car seat. A friend recommended Buckle Me Baby and it has been a lifesaver! We don't lug around extra blankets anymore because this coat takes care of everything for my daughter, I don't hear any more complaints of "mommy I'm too cold!"! We live in Alaska and this coat definitely stands up to our winter weather!
03/14/2021
Megan B.

United States
Love this coat!
The Buckle Me Baby Coat is well made, comfortable for my little guy, and makes me feel better knowing that he's safe while staying warm. Will keep buying them for my toddler as he grows and his soon to be born little brother.
02/28/2021
Becky B.

United States
02/04/2021
Katie S.

United States
So Easy to Use
Love this coat in cold Wisconsin! I love being able to keep my son warm in and out of the car without having to take a coat on and off every time. Great for cold morning car rides to and from daycare!
01/21/2021
Nancy M.

United States
Hurricane coat
Just genius.! Easy on,easy buckle,easy off. What more could you want? Won't buy anything else from now on. A great coat.
01/09/2021
Connie K.

United States
12/29/2020
Kellie J.

United States
Love it!
Makes it SO MUCH easier & faster in & out of the car. Especially in the cold ND winters!
12/28/2020
Sharon H.

United States
Nice coat-but kind of wish it has a hood.
I gave it to my kids for my new grandson. Its got lots of room for him to grow-I probably should have gotten a smaller size. They seemed to think it was a great idea. I kind of missed that it didn't have a hood-I know the more expensive model has one-but for the price of the coat I would think that a hood would be included with it. Nice quality though.
12/28/2020
Mary L.

United States
Cute coat
It looked small for my almost 6 month grandson but fits great and suppose to get real cold so will be great this winter. I do have a question thou - is it best to put coat on in the house or once you have him in the car seat. Thank you! I'm so glad I found this Coat - what a great invention! Kudos to you!!