Free Shipping on US Orders $50+
Beary Best Hugs | Limited Edition
Be ready for car seat safety and freezing weather - without struggles!
Sunny yellow sherpa and a beary adorable flannel interior - this car seat coat keeps little ones warm all winter long. Fall in love with kangaroo pockets - perfect for hiding tiny treasures or giving cold hands a cozy place to snuggle.
Perfect for safer rides in the car and outdoor days in the snow with durable wind and water resistant exteriors.
NOTE: Coats run large for longer wear! No "sizing up" and adding bulk to the back.
Harness safely snug on chest & shoulders
Quick in & out of the car seat
Easy to use zipper and velcro closures
Wind & water resistant
Machine washable
Removable magnetic hood
30 Day Worry Free Return/Exchange Policy
Crash Tested/Child Passenger Safety Technician (CPST) Approved
Consumer Product Safety Commission (CPSC) Approved
100% Polyester - Made in China
"Safety in the car seat is legit everything and this make life easier!"
Tasha K.
"This jacket is extremely well made and keeps my little one warm rather than running to the car with him jacketless."
Dennis L.
"Wonderful coat! Perfect for the on the go family on cold early mornings! Easy to use with plenty of warmth for little ones."
Lauren R.
Customer Reviews
Write a Review
Ask a Question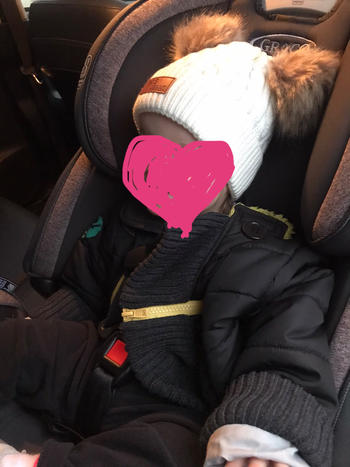 01/05/2021
Great purchase
Our daughter was almost out of 12 mo. clothing, so we ordered up to 18 mo. for our coat. It was a little big when she started wearing it in October, but now at the beginning of January it fits great with the sleeves rolled. We live in MN and she does not ever seem bothered by the cold, so the coat is doing its job keeping her warm. Since we have been using it with the sleeves rolled (and probably still will be for a while), the inner liner right at the cuff is fraying slightly as it's not as durable as the outer layer. Just a few loose strings but it's something to consider if you are ordering a size up. My daughter also liked to pick at the yellow fuzzy part of her coat in her car seat until I got wise and made sure nothing was visible when I tucked it out of the way of the car seat straps. Overall it was a great purchase! Quality coat that keeps my daughter warm and safe while in the car.
Erin H.

United States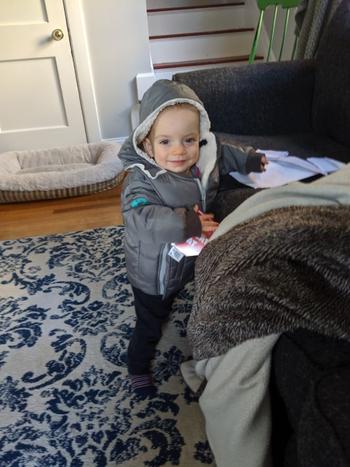 10/29/2019
Great coat
I love the look and feel of this coat. And the detachable hood that doesn't detach all the way is perfect so the hood doesn't get lost.
Shannon S.

US
03/16/2021
Works well... awkward collar
I think it is a well-made coat and it is certainly helpful for the car or stroller, but this model does have an awkward collar that seems to get in the way, flap around, etc. I think I would probably have liked a different model a bit better for that reason. Overall, however, it is a nice coat.
Lauren K.

United States
02/07/2021
Unfortunately disappointed
I was expecting a lot more quality than what we received, for the amount of money this cost. We weren't super impressed with the collar that you can't keep around the neck (our little one hated it being tucked in and it came right back out), the random Velcro that was catching on the other parts of the coat right out of the box, and some of the stitching, but the premise worked. It would be great for the car seat of those issues were fixed, but we ended up returning this and getting a Columbia jacket that was warm and wouldn't be too fluffy for the car seat. We appreciate the concept and the full refund. We hope that we can purchase again in the future when quality and design are improved.
Erin C.

United States