Cosmic Chill | Toastier Car Seat Coat (RETIRED - FINAL STOCK)
MEET THE COAT THAT DOES IT ALL
🏠 GOES ON AT HOME – STAYS ON SAFELY IN CAR SEATS
🎁 FAST + EASY TRANSITIONS IN + OUT OF CAR
❄️ PERFECT FOR SNOWY OUTDOOR PLAY
🚨 KEEPS LITTLE ONES WARM IF YOU ARE STRANDED AWAITING RESCUE 
BONUS:
❤️ LONGER SLEEVES SO COATS CAN LAST MORE THAN ONE SEASON
 Yes there are other workarounds out there but:
Ponchos aren't warm in a crash,
blankets fall on the ground out of reach when you need them (not to mention the constant washing),
light fleece jackets are only good for quick dashes to the car - plus you STILL need to buy your little one a coat for the snow…
Juggling several winter solutions is a hassle and adds up fast and none of these will keep your little one warm enough if you are stranded in an emergency awaiting rescue.
It doesn't need to be overwhelming!
Worry less, buy less, and keep it simple, safer, and EASY with the coat that does it all.
As a one mama run small (potato) business, I take safety very seriously. I've crash tested so many coats and car seats to create the safest coat for your little one so you never have to worry about car seat safety or freezing weather again.
You can enjoy your trips - without any struggles!
Bright blue exterior and cozy red flannel interior - this car seat coat keeps little ones warm all winter long. Fall in love with kangaroo pockets - perfect for hiding tiny treasures or giving cold hands a cozy place to snuggle.
Perfect for safer rides in the car and outdoor days in the snow with durable wind and water resistant exteriors. Coats run large for longer wear! No "sizing up" and adding bulk to the back.
📦 30 Day Worry-Free Return/Exchange Policy
Water resistant outer fabric – keeps little ones dry and warm
Split collars - harness safely snug on chest & shoulders
Crash Tested
CPST (Child Passenger Safety Technician) Approved
CPSC (Consumer Product Safety Commission) Approved
Wind + Water Resistant
Machine Washable
100% Polyester – Imported
Customer Reviews
Write a Review
Ask a Question
I love the idea
I'm traveling at the moment so I couldn't try it yet!!! But it looks great! Can't wait!!
04/12/2022
Hedi A.

United States
Worth it!
This coat checked all boxes. It delivered on it's promises, my toddler loves it, fit was perfect, the color is beautiful and it gave me peace of mind that my daughter is both safe and comfortable in her car seat.
02/12/2022
Caitlin c.

United States
It a good but
I ordered the wrong size. I needed the 18 months and ordered a 6to 9 month one.
02/09/2022
Shira L.

United States
Great Coat!
Warm, safe and easy to put on a squirmy child!
02/07/2022
miriam S.

United States
Convenient and safe
This is the second Buckle me baby coat I've purchased and it wont be the last. The coat is warm, safe, and stylish. That's pretty much all I can ask for in a kids coat. Thank you!
01/29/2022
Connie L.

United States
Very Nice.
It is well made and very practical.
01/28/2022
Aubrey A.

United States
Good Coat
This coat is very high quality and warm! That is one thing I love. I will say that it does run big though, and it does take some time to get it right in the car seat. I don't like how the zipper is on the side vs the middle either, daycare gets confused on how to put it on her to wear just regularly. I will say, however, that it is amazing to finally have a coat I can put my daughter in her car seat in! We live in MN and deal with extremely cold temps!
01/26/2022
Kathryn B.

United States
Amazing
We ordered this coat for my son and it's so warm and comfy. He loves it!
01/20/2022
Nikki G.

United States
Toastier Coat
Love it! Keeps him warm while safely buckled in
01/15/2022
Lauren M.

United States
Beautifully made
So very happy to find this. My daughter is in NH and to have this coat is a good send
01/11/2022
Alisa S.

United States
Best Buy of 2021!
It's super easy to use! Also my toddler loves it! Now no more complaining in the car because he can't wear his coat!
01/08/2022
Chastity F.

United States
Great buy
Safety for my grand baby doesn't have a price. My daughter gives the coat 4.5 out of 5 Stars ⭐️
01/07/2022
Stacie H.

United States
Love!
This coat is so cute! Easy to put on and take off and the sleeves are the perfect length for covering his little hands when mittens aren't around! Will definitely be buying the next sizes! I bought a 24m for my 20 month old but I think it'll fit him into next winter!
12/22/2021
Anne p.

United States
Wish i had this in the past!!
This is the best coat ever! No more freezing to the car or getting to the car, taking off the coat, buckling in, worrying that they are cold, then redressing at daycare. This makes it so simple! And I know she is warm which is wonderful. Will definitely buy next Sizes as she grows!!
12/17/2021
Taryn G.

Canada
Upgraded from toasty
Looks/feels warm! Love the high neck, it's the main reason we upgraded, for cold Canadian winters. May only wish is that it had the Velcro the whole way up where the zipper is, instead of just the bottom. (Like the toasty version) It was a time saver when running from the house to the car.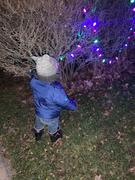 12/16/2021
Valerie M.

United States
Peace of Mind
I was so nervous about keeping my child warm in Winter- it gets very cold here up north- and I wasn't happy with a blanket being my only option. From day 1 I was very impressed with the design and warm of my buckle me baby coat. I felt safe knowing my child is securely buckled in, but still warm. Great design, easy to use, and I love the colors!