MEET THE COAT THAT DOES IT ALL
🏠 WARM FROM HOUSE TO CAR
🎁 SAFELY BUCKLED IN THE CAR SEAT IN ONE EASY STEP
🚨 WARM IN THE CAR IF YOU ARE STRANDED AWAITING RESCUE
❄️ PERFECT FOR SNOW PLAY
Ponchos aren't warm in a crash, blankets fall on the ground out of reach when you need them (not to mention the constant washing), and light fleece jackets are only good for quick dashes to the car - plus you STILL need to buy your little one a coat for the snow…
 Juggling several outerwear solutions is a hassle and adds up fast!
Worry less, buy less, and keep it simple, safer, and EASY with the coat that does it all in one fast step.
It doesn't need to be overwhelming..
As a one mama run small (potato) business, I take safety very seriously. I've crash tested so many coats and car seats to create the safest coat for your little one so you don't even have to worry about car seat safety or freezing weather. You can enjoy your trips - without any struggles!
Bright blue exterior and cozy red flannel interior - this car seat coat keeps little ones warm all winter long. Fall in love with kangaroo pockets - perfect for hiding tiny treasures or giving cold hands a cozy place to snuggle.
Perfect for safer rides in the car and outdoor days in the snow with durable wind and water resistant exteriors. Coats run large for longer wear! No "sizing up" and adding bulk to the back.
📦 30 Day Worry Free Return/Exchange Policy
Harness safely snug on chest & shoulders
Crash Tested
CPST (Child Passenger Safety Technician) Approved
CPSC (Consumer Product Safety Commission) Approved
Wind + Water Resistant
Machine Washable
100% Polyester - Imported
Customer Reviews
Write a Review
Ask a Question
10/06/2021
Karla D.

United States
Exactly as expected
This coat was exactly what I expected and what I was hoping for. The quality is good, and we are looking forward to using it this winter.
09/20/2021
Kelsie M.

United States
High quality product and life saver!
Love that we have a coat that will withstand the test of time. Daughter will be 18 months in October so bought 18-24 month coat. Plenty of room and banking on getting three good winters out of it with her before we get to pass on to our next child. The folding sleeves are fantastic, the warm collar will keep her extra warm on the cold days getting in and out of the car, and I can't wait to use it in conjunction with the car seat! Love everything this company is about and that I no longer have to sacrifice warmth for safety.
08/24/2021
Mary J.

United States
Cosmic Chill
Lightweight and warm. Makes life easier!
08/17/2021
Jessica K.

United States
This coat is beautiful!
This is my second year purchasing a buckle me baby coat. My daughter is 5 years old this year. I feel SO much happier using these comfy, warm coats in the car seat than using no coat or an unsafe regular coat. Winter is just too cold to go without. I love this coat. My daughter has worn it everywhere not just in the car. It's so soft snd warm.
08/07/2021
Nicole B.

United States
Awesome coat!
It seems really well made. I bought larger than needed to so it would last longer. Actually really easy to use.
07/21/2021
Alyssa E.

United States
Best Coat Ever
Buckle Me Baby coats are the best coats we've ever purchased. Knowing we are making the best decision for the safety of our child and that peace of mind is priceless. We will continue to purchase these coats until we outgrow the biggest size. Which we know will be a while since 12 M fit out petite 2.5 year old for 2+ seasons. Recommend them to anyone that has little ones in car seats.
04/26/2021
Christine S.

United States
04/01/2021
Jennifer M.

United States
An amazing car seat coat
I had been given a different brand of car seat coat a few months ago. My little one grew out of it, so I began looking into what my options were. I purchased this coat and am very happy I did. I love that this coat has a zipper towards the side. The old coat had a normal zipper and I always hate putting my LO in the car knowing that the buckle will be pushing the zipper right into my LO. I like that it can be zipped down in the front a little for breathability and a way to cool down without taking it off. I like that there is fabric that covers the neck, that way LO can just wear a hat with it. Most of all, I love that when I put LO in the car seat, I can unzip the coat and roll it to the side, without it being in the way of the buckle at all. But then, when we get out, I can easily zip the coat back up because the front of the coat is the only thing not on. My hubby doesn't love the coat as much as I do, but I honestly think it's because he has trouble with it. It's not as easy as just zipping LO up and snapping the buckle. It takes a minute to un-Velcro and unzip before buckling the car seat. I don't mind that at all and I think any parent that uses this a few times will see how great of a clothing asset this coat is. Especially when you don't need to get LO in and out of a coat when getting them in and out of the car!
03/22/2021
Nicole W.

United States
Absolutely perfect!
This is by far the best thing that was invented!! We live in Minnesota where it gets pretty cold and having this jacket was so nice getting my daughter in and out of the car this winter without trying to throw another coat on or run fast with a blanket
02/26/2021
Kay S.

United States
Problem solved
Great jacket to keep kids warm and still safe in their car seats. Thank you for designing this winter jacket
02/26/2021
Sarah H.

United States
So Easy
We are so happy with this coat! I did a lot of research as to which size to get, to be able to get two years use out of. I used the size calculator and ordered that size. It definitely runs bigger, and we will be getting another whole season out of it. It is so easy to use, I am so happy we decided to try this out! Worth the money!
02/18/2021
Courtney K.

United States
Amazing product!!
Such an incredible product! We no longer have to wrap our kiddos in blankets and run to/from the car. The jacket is made well and so easy to use. Love that there is extra room to grow. Such a great purchase!!
02/18/2021
Melissa B.

United States
Great idea, sizing is a little off
We love this idea, however, the 3T fit very big. The excess material makes this coat a little tricky to maneuver in the car seat. I would buy it on the small size.
02/16/2021
Rebecca H.

United States
Runs huge.
Its a very cute color, does the job. I however don't feel its warm enough to be my sons actual winter coat. It runs huge! My son is a small 12m, I ordered the 6/9 months and I really feel its like an 18m. I know bmb runs large but I really think that this is to large. I do want to say they have been very helpful with my return and the customer service is superb.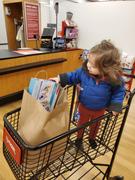 02/05/2021
Ronnie L.

United States
Love this coat
I babysit my granddaughter and was very frustrated with taking her in and out without a coat on. Her safety comes first but it gets cold here. This coat is the perfect solution. She wears it to the car we unzip and she's safe in her car seat.
01/30/2021
Karen M. Gulch

United States