Little Dipper | Toastiest Car Seat Coat | Limited Edition
$134.99
Regular price
$149.99
MEET THE COAT THAT DOES IT ALL
🏠 WARM FROM HOUSE TO CAR
🎁 SAFELY BUCKLED IN THE CAR SEAT IN ONE EASY STEP
🚨 WARM IN THE CAR IF YOU ARE STRANDED AWAITING RESCUE
❄️ PERFECT FOR SNOW PLAY
Ponchos aren't warm in a crash, blankets fall on the ground out of reach when you need them (not to mention the constant washing), and light fleece jackets are only good for quick dashes to the car - plus you STILL need to buy your little one a coat for the snow…
 Juggling several outerwear solutions is a hassle and adds up fast!
Worry less, buy less, and keep it simple, safer, and EASY with the coat that does it all in one fast step.
It doesn't need to be overwhelming..
As a one mama run small (potato) business, I take safety very seriously. I've crash tested so many coats and car seats to create the safest coat for your little one so you don't even have to worry about car seat safety or freezing weather. You can enjoy your trips - without any struggles!
With our wind and water resistant burnt orange outer fabric, cozy charcoal grey sherpa, and the softest out of this world minky interior - this car seat coat keeps little ones warm all winter long. Fall in love with kangaroo pockets - perfect for hiding tiny treasures or giving cold hands a cozy place to snuggle. Magnetic hood is fully removable for easy use.
Perfect for safer rides in the car and outdoor days in the snow with durable wind and water resistant exteriors. Coats run large for longer wear! No "sizing up" and adding bulk to the back.
📦 30 Day Worry Free Return/Exchange Policy
Harness safely snug on chest & shoulders
Crash Tested
CPST (Child Passenger Safety Technician) Approved
CPSC (Consumer Product Safety Commission) Approved
Wind + Water Resistant
Machine Washable
100% Polyester - Imported
Customer Reviews
Write a Review
Ask a Question
Amazing Coat
I bought a cheaper version last year for my son not quite sure what I would think of it or not…however, I loved it so therefore I bought the toastiest jacket this year for two reasons 1. I love the jacket and find it the best coat for our busy lives. 2. he's bigger now and he'll be outside more and using it I believe more often. So having a thicker warmer coat in Minnesota winters is necessary!!!
10/03/2021
Luna M.

United States
Love it!
What a great quality. We saw a handful of other moms on Instagram with these and bought one for our first born - it's great! It will definitely last the entire season coming up (maybe longer because of the sleeves) and we chose a gender neutral so little brother than wear it next winter! Great investment.
10/02/2021
Elizabeth K.

United States
Cute, Snuggly Warm Coat!
I bought this coat a little big so that I could roll the cuffs on my kiddo and get hopefully two winters out of it at least. I am so pleased with the quality I think we will. The zippers feel good, the lining is soft and warm. I like the magnetic hood clasps. We haven't used it a ton with the car seat yet, but when we have it's been reasonably easy. Everything feels well made. And the bear pattern is adorable.
01/29/2021
Jeanie S.

United States
YETI SPAGHETTI COAT
We purchased this coat for our granddaughter. Our daughter/son-in-law mentioned how hard it was to keep her warm because she couldn't safely wear a 'traditional' winter coat in her car seat. This coat is perfect! It does take a few extra minutes to get her safely buckled in, but it's worth it. She is safely buckled in her car seat AND she is warm!
01/14/2021
Dianne T.

United States
Huge fan even before shark tank!
Love these coats. I didn't give it 5 stars because the collar/hood is so awkward for me. I opted to keep the hood off but the collar is still weird. I was hoping to keep the hood on so I didn't have to worry about a hat. Oh well! I know it he design will only get better.
01/14/2021
Melissa F.

United States
Easy to use
Don't be intimidated by this coat, it is easy to learn to use it without a struggle. The video from the company demonstrates it well.
01/14/2021
Janet S.

United States
Perfect
It's so much easier to get our daughter in and out of the car seat without having to take her coat off and put it back on. My mother in law bought this coat for us and it was a great investment!
01/05/2021
Erin H.

United States
Great purchase
Our daughter was almost out of 12 mo. clothing, so we ordered up to 18 mo. for our coat. It was a little big when she started wearing it in October, but now at the beginning of January it fits great with the sleeves rolled. We live in MN and she does not ever seem bothered by the cold, so the coat is doing its job keeping her warm. Since we have been using it with the sleeves rolled (and probably still will be for a while), the inner liner right at the cuff is fraying slightly as it's not as durable as the outer layer. Just a few loose strings but it's something to consider if you are ordering a size up. My daughter also liked to pick at the yellow fuzzy part of her coat in her car seat until I got wise and made sure nothing was visible when I tucked it out of the way of the car seat straps. Overall it was a great purchase! Quality coat that keeps my daughter warm and safe while in the car.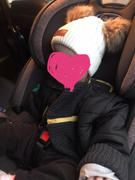 12/26/2020
Candace W.

United States
Yeti Spaghetti
Quality jacket Beautiful design
12/23/2020
Sara L.

United States
Excellent Quality
Excellent Quality, my little guy absolutely loves his special coat. He gets upset when we get home and he has to take it off!
12/04/2020
Lauren B.

United States
Great solution to a problem!
I am happy with my purchase of the Toastiest coat. It is definitely warm, fits well, and is super cute. I purchased the 18 month size. My son is 32 inches tall and weighs 25 pounds, and it fits perfectly with the sleeves folded over. I'm pretty sure it will still fit him next winter as well. Minus one star for the collar, which just kind of "ends" and looks unfinished without the hood attached. Overall, this coat is a great solution to a major inconvenience in the winter.
11/30/2020
Lisa N.

United States
Amazing coat!
This coat is amazing! I love that I don't have to take my child's coat on and off or wrap them in a blanket when going to the car or leaving the car
11/28/2020
Karen F.

Canada
Measure before buying
My son is 17-months old and I decided to order an 18M since I had read everywhere not to size up. When we received it, I noticed the sleeves were long, but the actual fit of the coat is very tight on his body and rides up -- I don't think it will fit him all winter. Granted, my son is tall for his age, but I wish I had measured before ordering! For the actual functionality of the coat, since it is small, it is hard to get the velcro in place, but if it were bigger, I think it would work well. Otherwise, the coat seems warm and very good quality.
11/13/2020
Diana A.

United States
2nd round
We love these coats and tell everyone we know to get them. As a family of EMTs and Firefighters nothing is more important to us than safety.
10/21/2020
Victoria R.

United States
Very nice coat, measure first
I love the coat but wish I would have known not to size up. I had already pulled the tags and will be purchasing a second coat to fit him.
10/06/2020
Amy D.

United States
Awesome product!
This shipped quickly and is very easy to use and will make winter so much easier on our little guy! We've been wondering what to do about the no coat in car situation. This is a lifesaver. I'd love some cute patterns on outside but hubby likes it plain so it's all good!