MEET THE COAT THAT DOES IT ALL
🏠 WARM FROM HOUSE TO CAR
🎁 SAFELY BUCKLED IN THE CAR SEAT IN ONE EASY STEP
🚨 WARM IN THE CAR IF YOU ARE STRANDED AWAITING RESCUE
❄️ PERFECT FOR SNOW PLAY
Ponchos aren't warm in a crash, blankets fall on the ground out of reach when you need them (not to mention the constant washing), and light fleece jackets are only good for quick dashes to the car - plus you STILL need to buy your little one a coat for the snow…
 Juggling several outerwear solutions is a hassle and adds up fast!
Worry less, buy less, and keep it simple, safer, and EASY with the coat that does it all in one fast step.
It doesn't need to be overwhelming..
As a one mama run small (potato) business, I take safety very seriously. I've crash tested so many coats and car seats to create the safest coat for your little one so you don't even have to worry about car seat safety or freezing weather. You can enjoy your trips - without any struggles!
Little Trailblazers ride in style in the easiest, safest car seat coat to hit the road!
Pink with the snuggly light blue fleece inside to keep little trend setters toasty warm all winter long. Fall in love with the charming kangaroo pocket – perfect for hiding little treasures or giving cold hands a warm place to snuggle.
Perfect for safer rides in the car and outdoor days in the snow with durable wind and water resistant exteriors. Coats run large for longer wear! No "sizing up" and adding bulk to the back.
📦 30 Day Worry Free Return/Exchange Policy
Harness safely snug on chest & shoulders
Crash Tested
CPST (Child Passenger Safety Technician) Approved
CPSC (Consumer Product Safety Commission) Approved
Wind + Water Resistant
Machine Washable
100% Polyester - Imported
Customer Reviews
Write a Review
Ask a Question
09/13/2021
Brittany L.

United States
LOVE!!!
This is seriously the greatest idea ever! Although I love snuggling my daughter with a blanket in her car seat, she is then left without a coat in transfer. Now we don't have to worry about that! The color is as pictured, super cute. We used the sizing chart and although it's a little big on her (a peanut for her age) it still fits comfortably and I know she will fit in this for a year or two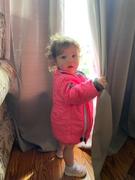 09/11/2021
Kathy P.

United States
Can't wait to see it on my granddaughter. Great idea!
09/05/2021
Jessica J.

United States
07/19/2021
Rachel O.

United States
great coat!
We had this coat last winter and it's great. We had a warmer coat for outdoor snow play, but this one did the job for getting back and forth to daycare! Run really big. Wish it had more velcro for when we put it on inside and don't want to zip for just a minute until we get to the car.
03/04/2021
Sarah S.

United States
02/20/2021
Devon W.

United States
Smooth transitions
Truly, life has gotten easier with this coat! I live in a place where it's cold 75% of the year and having this coat has made keeping the toddler safe and warm a possibility. Trying to put her coat on after getting to our destination was a nightmare. 
02/05/2021
Rhonda E.

United States
Amazing coat!
Bought this Buckle Me Baby coat for my granddaughter and my daughter LOVES it! Thank you for keeping my precious girl safe and warn!
01/26/2021
Taylor E.

United States
Such a great mom hack!
This coat is great, it has saved us from parking lot meltdowns when it came time to take winter costs off. It is safe, warm, and a fun color. We will be using these until we are done with car seats!
01/23/2021
Ashley E.

United States
Worth the money
I wish it was more widely known why normal coats are unsafe. I'm glad there is finally a solution and it is worth the money for the safety. Dahlia provided amazing customer service and helped us find the right fit after I measured wrong with our first order. We will continue use these every winter
01/22/2021
Erin M.

United States
Love this Coat!!!
I have three kids and the baby is very used to being carted around in the car here and there. This coat was a game changer! We don't have to constantly take the coat on and off all day and she Loves it too!
01/20/2021
Holly B.

United States
Great coat
The coat fit great and was easy to use.
01/18/2021
Kathleen H.

United States
Extremely happy with this jacket!
It is very warm and well made. Easy to get on and off my 1 year old daughter. Everything as promised and safety is the best feature!
12/28/2020
Alita M.

United States
Gift for Granddaughter
This coat is awesome. She went to see the Christmas lights at the Zoo and she stayed nice and warm. I will be getting one for my new grandson next year
12/28/2020
Nichole S.

United States
Returning customer
We loved our first jacket and just bought a bigger size for this winter. Very happy with the quality of the jacket!
12/25/2020
Laurie K.

Canada
Very Thoughtful
I love this coat I purchased for my Granddaughter! I couldn't imagine putting her in the car seat in just her sleeper . Now she can be safe and warm!
12/24/2020
Kenneth R.

United States
Great Coat!
Easy to put on in the car. Exactly what we were looking for!